Boarding
Single Dog Boarding

- $52.00 Per Kennel Per Night
2-Dogs Sharing Kennel

- $94.00 Per Night
3-Dogs Sharing Kennel

- $135.00 Per Night
Private-Play Boarding

- $60.00 Per Night
Just because you've gone on vacation doesn't mean your dog can't have one, too! While having
your dog stay with us at Sniffer Station they will receive the pampering service they want and deserve! We offer
large kennels, careful monitoring of food and medication intake, and our boarders have the luxury of daycare with their stay,
but also get breaks, as well as going up for feeding and bedtime.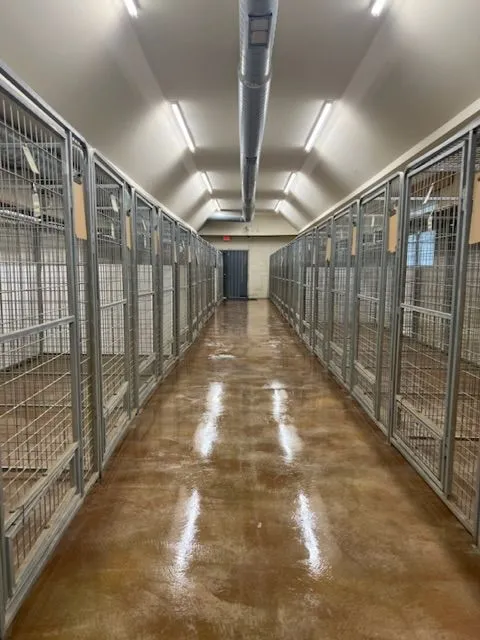 Dog Boarding Features:
Individual 6x4 kennels (some with privacy siding)

In floor heating

Don't worry about bedding - we have you covered with elevated cots, blankets, and bedding.

Air ventilation system throughout the kennel

Sound proof kennel room to keep outside noise at bay.

All boarders will be out with daycare dogs during their stay with us, as that is included in our open play policy.
**Any & all medication must come in its original container (this includes over the counter medication, calming chews, supplements, etc.).
Discount Packages:
Purchase 10 nights for $468 (10% savings)
Purchase 20 nights for $884 (15% savings)
(**Multiple dogs will EACH remove a day from a package**)
What We Need:
Proof of Vaccination for Bordetella, Distemper, and Rabies is required; Canine Influenza is highly recommended. These can be emailed to us prior to your dogs reservation or you're more than welcome to bring in a hard copy at drop-off!
**Before boarding, we require all dogs to have passed their FREE HALF DAY ASSESSMENT**
Speed up the drop off process and start your vacation sooner!
Fill out the form below and bring it with you when you drop your pet off and avoid the wait.